ST. PETERSBURG, Fla. (June 8, 2016) — For the second consecutive week, the Tampa Bay Rowdies have landed the Player of the Week award and had two players receive Team of the Week recognition. This week, Georgi Hristov earned the title of Player of the Week and he has been joined in the Team of the Week by midfielder Kalif Alhassan.
Hristov scored twice on Saturday to take over the team scoring lead with three goals in NASL play. Alhassan assisted Hristov's first goal, running his streak to three straight matches with an assist. He is Tampa Bay's assist leader with three this season.
This is the first Team of the Week nod for both players this season.
The full NASL Team of the Week is below.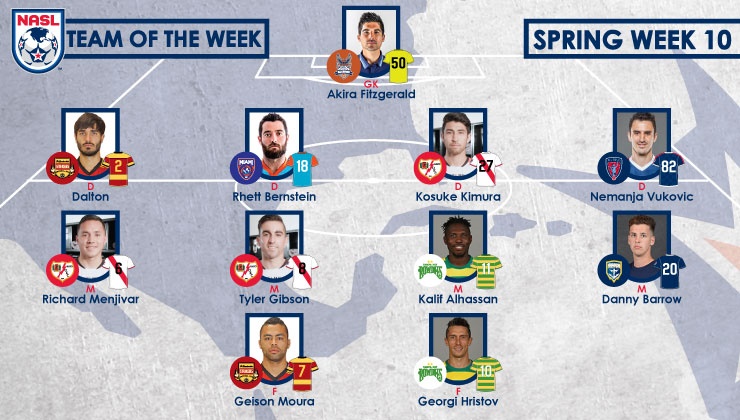 GK: Akira Fitzgerald (Carolina RailHawks) – The veteran shot-stopper saved all seven shots he faced to help Carolina preserve a shutout in a scoreless draw with Jacksonville Armada FC.
DEF: Dalton (Fort Lauderdale Strikers) – The Strikers defeated the New York Cosmos for the first time in the Modern Era and Dalton played a huge role in the 2-1 win. He had the assist for the opening goal and then made a total of 10 clearances at the back, along with winning five duels and making three interceptions.
DEF: Rhett Bernstein (Miami FC) – He helped keep a shutout in a scoreless draw with Indy Eleven, making four clearances and eight interceptions.
DEF: Kosuke Kimura (Rayo OKC) – The veteran defender played a key role in Rayo OKC's first home win, a 1-0 result over Minnesota United. He made five clearances and four interceptions in the victory.
DEF: Nemanja Vukovic (Indy Eleven) – He helped keep Miami FC's attack at bay as Indy earned a shutout and remained unbeaten.
MID: Richard Menjivar (Rayo OKC) – The Salvadoran international was lively in the attack, creating two chances, including the assist on the lone goal in the game in the win.
MID: Tyler Gibson (Rayo OKC) – The young midfielder scored his first professional goal to lift Rayo OKC to victory, while also adding creativity to the attack.
MID: Kalif Alhassan (Tampa Bay Rowdies) – He created two chances and earned an assist on Georgi Hristov's opener in the 2-1 win over Ottawa Fury FC in a strong 90 minutes for the Ghanaian.
MID: Danny Barrow (Jacksonville Armada FC) – The Welsh youth international was a creative hub for Jacksonville as Armada FC earned a draw on the road.
FWD: Geison Moura (Fort Lauderdale Strikers) – He had an active night up top for Fort Lauderdale and went on to score the game-winner against the Cosmos.
FWD: Georgi Hristov (Tampa Bay Rowdies) – The Bulgarian forward scored both of Tampa Bay's goals in the victory, combining well with the Rowdies' other attacking players. He also battled in the win, winning seven of his 11 duels.
Source: HRISTOV AND ALHASSAN NAMED TO NASL TEAM OF THE WEEK by RowdiesSoccer.com Staff